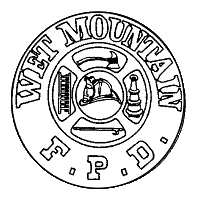 The Wet Mountain Fire Protection District was created by the citizens of Custer County for the provision of fire suppression and rescue services within 585 square miles of Custer County and 25 square miles within southern Fremont County.

Wet Mountain Fire contains 4 stations and 18 trucks. A fraternal organization of over 30 Voted Volunteer firefighters, members are held to high standards of training and participation. With members attaining the same NFPA certification levels as those achieved by paid fire services found in metropolitan areas like New York, Los Angeles, and Denver.

For more information or to visit our main station please phone our office at (719) 783-9245.